Tom is on the inside looking out; whereas I am on the outside looking in. I felt it made sense to maintain my outsider and ignorant viewpoint of fencing as much as possible, because I am closer to the audiences viewpoint therefore I can point out things that need to be elaborated on.


This post is comprised of all the research materials I collected together on the documentary's wiki.
The first section deals with general research concerned with the aesthetics and logistics of documentary filmmaking.

The second section with research directly focused on familiarisng myself with the sport and art of fencing.

A final section briefly places all of this research into the context of the production period and explorative process of actually filming the documentary.
General Research
Directing the Documentary
by Michael Rabiger
I worked my way through this book during the summer and I found it to be a concise and very knowledgeable introduction to the documentary medium. It also gave me the opportunity to draw up a creative identity profile of myself; this I did twice, once while reading the book and after I had finished reading it.
I did the profiler a second time because I suspected that my first attempt wasn't very thorough; it is for this reason that I consider the third profile I did during the creative identity documentary session to be quite conclusive.
Some quotes of Rabiger's that stood out to me:
"Documentary is really a screen version of human consciousness doing its living work"
"Think small, think local, think short. Do something contained and in depth."
"The first word to fall on each new signage exerts a major influence on how the audience interprets the whole shot"
Quotes by others that stood out:
"The creative treatment of actuality" - John Grierson
"A work of art is a corner of nature seen through a temperament" - Emile Zola
The book was also useful for clarity and introducing me to new filmmaking terms and practices in documentary making. I also found the book held an equal amount of good advice for non-documentary making. However, its focus is on the documentary and I am immensely pleased that I read it because it shifted my brain from thinking about filmmaking in regards to fiction films to thinking about filmmaking in regards to non-fiction films.
BIME
During the Summer I was working for the Bath Institute of Medical Engineering [now rebranded as designability] producing short videos about the work they do and promoting their products. I spent just over three months working for them and this experience I found to be hugely beneficial to developing my filmmaking skills. The videos I produced are documentaries only in so far as they are informative; they do not operate on the level of complexity that the module requires. However, I still found the process of making them very useful in regards to thinking about how to present informative visuals, practicing interview technique, editing, cinematography, organisational skills, sorting permissions, etc.
It also gave me an opportunity to apply what I was reading about in Directing the Documentary; in this respect working for BIME was practice for this module.
Pumping Iron & Raw Iron
When I was 9, I remember watching a documentary about Arnold Schwarzenegger and Pumping Iron being cited as a groundbreaking documentary. It's funny what sticks with you from an early age, but I remember wanting to watch Pumping Iron as a result of seeing it being teased. Pumping Iron is a groundbreaking piece of work because of the clarification it supplied by debunking a lot of the ignorant perceptions surrounding bodybuilding – I think it is fair to say Pumping Iron was in my subconscious while making the Fencing documentary! However, about a year ago I finally watched the full documentary on YouTube.
Ultimately, I found the sequel/making-of documentary Raw Iron to be much more interesting! As Pumping Iron is quite openly a docu-drama there are elements of it that are fictional or highly manipulated from their occurrences in reality. I found Raw Iron so fascinating because it identified these heavily manipulated elements of Pumping Iron and explored the reasoning behind their inclusion. The filmmakers they manipulated elements because it made for a stronger narrative in the documentary.
Therefore, by making the primary figures into archetypal characters: the underdog, the bully, the hero, etc., it made for a much clearer and stronger narrative. The filmmakers even discuss one scene they went back and staged long after they had finished filming the initial footage! I found Pumping Iron to be highly revealing about the nature of documentary filmmaking. It was also this documentary which started my distrust, doubt and dissatisfaction of the documentary medium; as well as igniting my intrigue towards its ability as just another form of illusion!
Land of Promise: The British Documentary Movement 1930 - 1950
I have not watched all of the documentaries in this boxset, as that would've demanded too much time. However, I have watched a few examples to get a feel for the stylistic tradition of the British documentary and I think the realistic artistic approach of the British Documentary Movement is in line with my own feelings towards how documentary subject matter should be chronicled. I consider myself to be a 'realist' in this respect; obviously, though, you also need to employ formalistic elements to complement the realist ones.
Koyaanisqatsi
I first watched this back in 2007 and I've always thought that this film was the ultimate example of a documentary. It's brilliant because it tells its story entirely through the visuals and Philip Glass' score and it creates a truly awe-inspiring impression as a result, this is something that a lot of documentaries fall short on.
F for Fake
I was completely baffled when I first watched this two years ago. One of the problems I have with a lot of documentaries is they spoon feed the viewer and a lot of people like that. However, I get very bored very quickly with those type of documentaries (Capturing the Friedmans being one of the them), I like to be shown something but to still have a nagging suggestion that what I'm seeing isn't the full story - this is exactly what F for Fake does. It very consciously addresses the surface falseness and teaches the viewer to probe deeper which is exactly what a good documentary should do. Good documentaries should present something that is very familiar and then completely pull that familiarity apart to reveal something more extraordinary.
Soy Cuba
I had to analyse this clip for a first year Film Studies essay and I was stunned when I discovered that the film was in fact fictional, because from these first five minutes you would assume that the whole thing was a documentary. The element that made the biggest impression was the free-flowing camera that seems to be completely unrestrained and probes into whatever it wants to probe into - the documentarian's dream! This opening is really a master-class in handheld documentary making. Yes, there is a voice-over but this is almost completely eclipsed by the visual impression of the free-flowing camera.
The Tree of Life


This isn't quite a documentary (arguably, the prehistoric segments are) but when I was watching the way in which the film was presented it just felt like the right way to make a documentary. Like
Soy Cuba
, the camera takes on free-flowing movement and seems to be probing into everything. Again, there is voice-over but the visual impression is so strong it overrides the voice-over. For me, a good documentary needs to be as visual as it possibly can - if it's visual it allows the spectator a greater opportunity to scrutinise everything they are being shown, without being distracted or influenced by voice-overs or interviewed testimonies. Just let the images tell the story!
Life in a Day
I was lucky enough to watch this when it was first streamed online and it is very radical documentary using segments of material created and submitted by the viewer. In many ways it is reminiscent of Koyaanisqatsi in its scale and it is a great example of how to create a narrative from a truly diverse selection of material. Watching this documentary is a mind expanding experience that hints at the future possibilities of filmmaking.
Britain in a Day
I was also able view Britain in a Day when it first aired and like its predecessor this documentary is vast in its scope, even if it is only focusing on Britain opposed to the entire globe.
Man on Wire
Yeah, it's a good story and all the more remarkable because it actually happened. However, I actually think the fact that this is a documentary lets the subject matter down. Interspersed throughout this documentary are these very visual re-creation segments and I think the visual impressions of these have a greater impact of conveying the story and its themes rather than all of the spoken testimony the documentary is cluttered with. I wish they had just done this as fiction film made in the style of the re-creation segments and let the visuals do the work.
An Idiot Abroad
POV. I've thoroughly enjoyed watching the three series of the travelogue An Idiot Abroad because it doesn't pretend to be something that it's not and this is the attitude of its central figure Karl Pilkington. This is very interesting because Pilkington's POV has been very much absorbed into the film form of the documentary and because of this it feels like a very honest and down to earth presentation. An Idiot Abroad has taught me the importance and power of a POV in a documentary and why the presentation of a particular POV can be enough to create an entertaining documentary.
Dreams of a Life
This documentary didn't have any influence on my approach on the fencing documentary while we were filming because I didn't watch Dreams of a Life until after we had completed our final shoot. I've included it here, firstly, as it is an exceptional example of a documentary and definitely worth a look and, secondly, as it goes against everything I have already said about the documentary medium.
Like Man on Wire, Dreams of a Life has highly stylized recreation sequences that are suggestive of a fiction film and the story this documentary could have been done as a very interesting and deeply complex feature film. Ultimately, though, it wouldn't be as good as this documentary because it tells a story that can only be told in the documentary medium.
The fact that the subject, Joyce Carol Vincent, was such an enigma with almost no trace of her life and with only the testimony of people who knew her shows you why this story can only be done as a documentary. In addition to her presence as recreated in the stylized sections you also need the testimonies of her friends to elaborate on her character and the contradictions that made up her character.
A 'fiction' film would have been too unreliable because it could have pushed the subject in any direction. For me, that is why I have included it here because it is an example of a documentary that reaffirms the documentary as sometimes being better than a feature fiction film because you get a more direct representation and testimony of what actually happened.
Other Documentaries
I've seen many other documentaries. However the documentaries/films I have presented above are the ones that have had the biggest impact on my thinking in regards to the documentary medium and my participation in the Short Form Documentary Making module.
Visual Storytelling: The Digital Video Documentary
by Nancy Kalow
This was another book I read and kept handy while we were filming the documentary; it's only 44 pages so I worked my way through it reasonably quickly. Less so with Rabiger's Directing the Documentary, this book is more focused on the independent filmmaker who has below average filmmaking equipment; in fact, it encourages the use of it! In this respect, this book was a good confidence booster - that Tom and myself would be able to produce something that is half decent.
It's advice on improving your listening skills I also found very useful and, indeed, was one of the reasons I spent periods during our shoots just observing and listening to everything that was happening around me. The ebooks technical advice came useful as well. As it was an ebook I could also very easily reference it on my iPad while I was editing so I was very glad to have this guide with me through the process of creating the documentary.
The Conversations: Walter Murch and the Art of Editing Film
by Michael Ondaatje
The Conversations is a book I have been reading throughout the editing process. The book is a collection of interviews between Ondaatje and Walter Murch in which they discuss the editing art form. I've been aware of this book since last Summer and I've refrained from reading it until now because I wanted to read it while I was actively editing a project - the fencing documentary has proven to be the ideal opportunity.
Reading Ondaatje's book throughout the editing process is allowing me to actively think very critically about all of the editing choices I'm making and allowing me to improve my editing craft as result.
In the Blink of an Eye: A Perspective on Film Editing
by Walter Murch
During the summer I read In A Blink of an Eye and this is how I first came across The Conversations. However, I am fascinated by Murch's views and ideas on editing; in particular his fascination with identify patterns in whatever he is editing and using those patterns as a guide for editing. Certainly, this is something I've been trying to do in my own editing.
The Filmmaker's Handbook
by Steven Ascher & Edward Pincus
As ever, this was invaluable!
My Documentary Springpad Notebook also contains many online resources that I have collected together and referenced throughout the academic year.
Fencing Research
The Art and Science of Fencing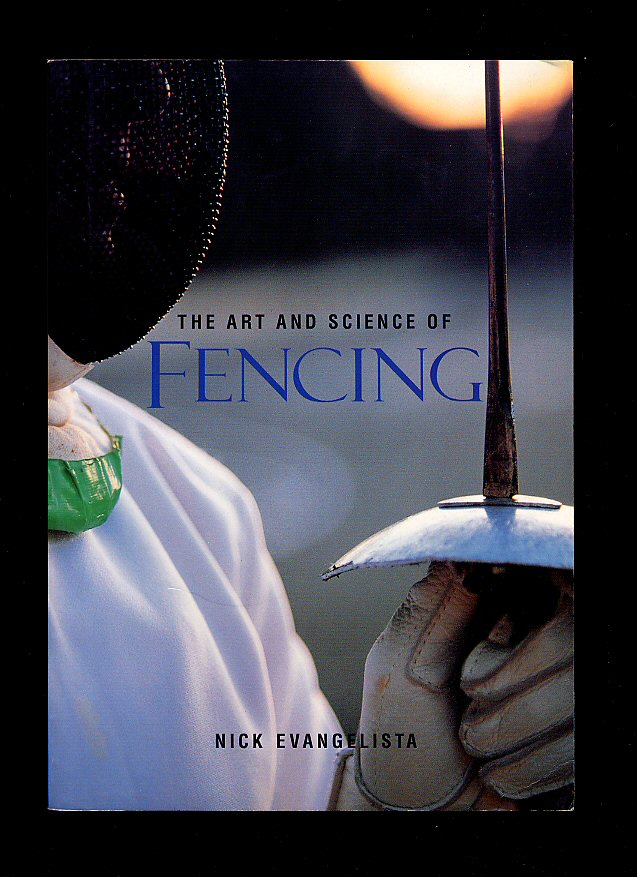 As I said in my POV
I am less familiar with fencing than Tom and because of this I had ordered the book The Art and Science of Fencing to supply me with a greater understanding. However, after we had done our
location recce
and I had had a chance to meet and watch some of the members I cancelled my order of the book.
My reasoning for this was simple: I had a complete different viewpoint on fencing compared to Tom. Tom is on the inside looking out; whereas I am on the outside looking in. I felt it made sense to maintain my outsider and ignorant viewpoint of fencing as much as possible, because I am closer to the audiences viewpoint therefore I can point out things that need to be elaborated on.
The small details of fencing that might be obvious to Tom but completely baffling to an ignorant member of the audience. This decision is very indicative of my whole approach to my research into fencing and while I've avoided familiarising myself with the finer details as much as possible my research has been more focused on how to present fencing in the documentary medium.
Videos
While it was good for me to remain the outsider, I still needed to have some idea what was going on and, to this end, below I have posted the sources I had a look at to better understand some of the details of fencing and to get an idea of how to best present fencing in the visual medium. I also had a look at the videos Tom has posted in his research.
Higher Frame Rates
This I came across of for the research for my dissertation, as different formats of filming is something that my dissertation examines.

While the NX5 is a fairly decent HD camcorder (what we filmed with) it would never allow us to capture high speed images as demonstrated in the video. Visually, I think we've done a pretty good job as it is but it would have been great if the NX5 could have allowed us to really capture what was going on during a fencing match. Something akin to the Speed of Fencing video above and I know this is a route Tom would have liked to have gone down for the opening segment of the documentary.




The Filming Process

The filming period also acted as a research period and I think more so for me, opposed to Tom, who is already more knowledgeable about Fencing. Just observing, talking to people generally, talking to people in interviews I found that I was acquiring pieces of information along the way that would go on to influence my successive approaches to filming, interviewing and discussing the overall narrative structure for the documentary.
Ultimately, I'm glad that we conducted six separate shoots because it really gave us time to get comfortable with the subject matter and to investigate it hands on. I think this extended filming period has made up for our rushed preproduction period that I felt was lacking in additional research and planning.
Before we started filming the main documentary, we put all of this research into practice in a short character study...